News, Announcements, Events, and Classes
What's new as of May 15, 2013 - issue # 288

---

---

---

Up Coming Events.

1989 - 90 - 91 - 92 - 93 Windknots have been posted.
A synopsis of proposed fresh waters outings has been posted on the FW outing page and also in the forums.
Fly Tying Festival - Pictures are posted in the gallery.
Education Committee has been updated. Use navigation menu above for that web page.

---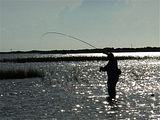 Come join the Texas Fly Fishers down in majestic Port O'Connor, Texas for the largest and longest running One Fly Salt Water Tournament held on the Texas Gulf Coast! The beautiful and most prestigious crystal "One Fly" trophy is up for grabs for the one individual who is able to score the highest point total. Have your name added to the impressive list of the past winners on the trophy. We will be having the Tournament Saturday, July 27th, 2013.
The fishing will begin at 4:00 AM and you will have to be off the water by 4:00PM. All gamefish (does not include hardheads, poggies, or baitfish such as croakers, needlefish etc.) must be measured (tip of nose to point of tail) in front of another fisher and/or photographed showing the fishes length to gain points (one inch = one point). Score cards must be signed by companion or fishing partner to be entered. So this is a partner event even though it is not a team event! We will meet at 5:30 PM over at Josie's Cantina for the awards and some food and refreshments. As usual there will be other awards to be had so don't miss the fun. Go to our Forum and sign up now. You need to have your club dues paid to participate in this event. Make sure you make all of your arrangements ASAP including lodging, boats, and partners.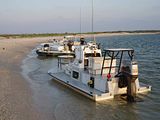 We're going for fish, RIGHT!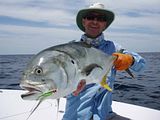 Click here for additional information
|
Download PDF Release of Liabilaty form here.
|
Sign Up Page.
---
---
John Scarborough Sunfish Spectacular 04/20/2013
Sign In: ) 630 hrs.
Thirty one Fishers signed in and consumed 8 Pounds of Pulled Pork, 12 pounds of Smoked Brisket, Eight Links of Deer Sausage, ½ Gallon of Beans, Chips, Cookies and Beverages. ¾ of a gallon of Margaritas disappeared on the hour- long run.
The front shut down the catching. Under 200 Bream were caught along with 59 Bass, 11 Crappie, and one 6 ½' Shinner (from the 29 turned in cards)
Martin Weir (39 Bream) and Shelby Carpenter (20) were the two largest number of Bream caught from the cards turned in. Largest Bass caught for the day 22" by Robert Engrav.
There was a tie for second place Martin Weir and Ralph Havis - Bream (8 ½" ) and one Bream 8 ¾" caught by Nilo Puckett.
The Fly::, a red butt ant (that she received @ sign in) under a S1B as a dropper, caught on the South end of Goose. Presentation: Cast let sit, and move an inch or so, and let sit again. Very slow presentation . Rod:: pink White River (R) 5wt rod with a pink White River reel, WF5-F fly line. Leader::: White River (R) 9' 2x tippet with 6# flouro dropper line. The S1B just disappeared as the fish snatched the ant.
Drawing at lunch: Stripping Basket went to Thomas Aubin, DVD's went to George Woods and Bubba Schneider.
Drawing from Cards Turned in went to Dick Kauth: 56 Flies and a Nice Fly Box.
Thanks to all that came and helped out during the event,
Michael J. Arnold
Posted, April 30, 2013
---
Auction is a SUCCESS.
TFF Auction - Special thanks to donors and bidders
The Texas FlyFishers annual auction was successful. Thanks to the members that participated in organization of the auction, those members that bid on live and silent auction items and all of the vendors and members how donated items. The proceeds will help fund the operations and events for the club for the upcoming year. I especially want to thank Skip and Mary Kay Donovan, Corey Rich, Joe Nicklo, Jim Richards, Barry Sandler, Mike Quigley, Mike Graham and Dave Kelly.
To quote Mary Kay:
"Listed below are those businesses and individuals who have helped support your club and made our auction a success. Remember them when you make your next purchase or plan an outing and please let them know you are a Texas FlyFishers member. Also, please thank them for their participation."
See you at next year's auction,
Thanks,
David Lemke
President, Texas FlyFishers
Auction Chairman
Mary Kay and Skip Donovan
2013 Auction committee
Donors
Anglers Book Supply; Eugene, Oregon - www.anglersbooksupply.com
Buff, Inc.; Santa Rosa, California - www.buffusa.com
Cameron Cipponeri/Frying Pan Anglers; Basalt, Colorado – www.fryingpananglers.com
Chris Sumers: Houston, Texas
Dan's Flyshop; Lake City, Colorado – www.dansflyshop.com
Dave Kelly; Todd Mission, Texas
Dr. Slick Company; Belgrade, Montana – www.drslick.com
ExOfficio Adventure Wear; South Seattle, Washington – www.oxofficio.com
Filson; Seattle, Washington – www.filson.com
Fishpond, Inc.; Dillon, Colorado – www.fishpondusa.com
Fred Hannie; Lake Charles, Louisiana
Frank Amato Publications, Inc.; Portland, Oregon – www.amatobooks.com
Gulf Coast Spey; Willis, Texas – www.gulfcoastspey.com
IFly, The Anglers Edge; Houston, Texas – www.ifly.org
Joe DeForke; Missouri City, Texas
Joe Nicklo; Houston, Texas
Mike George/Custom Deer Hair Flys; Olathe, Kansas
Mike Willis; Pearland, Texas
Montana Fly Company; Columbia Falls, Montana – www.montanafly.com
Oasis Fly Tying Benches; Hereford, Arizona – www.oasisbenches.com
Orvis; Houston, Texas – www.orvis.com
Patagonia; Ventura, California – www.patagonia.com
ReelFly Fishing Adventures; Canyon Lake, Texas – http://reelfly.net
Sam Caldwell – www.samcaldwell.com
Smith Optics; Ketchum, Idaho – www.smithoptics.com
Stone Creek, Ltd.; Greeley, Colorado – http://stonecreekltd.com
Temple Fork Outfitters; Dallas, Texas – www.templeforkflyrods.com
True Flies; Biltmore, North Carolina – www.trueflies.com
Wapsi Fly, Inc.; Mountain Home, Arkansas – www.wapsifly.net
Yellowstone Fly Rods; Jackson, Wyoming – www.jacksoncardinal.com
Plus the many members who tied flies: David Lemke, Ray Johnson, Joe Nicklo, John Carpenter, Shelby Carpenter, Aaron Hammer, John Scarcelli, Mike Arnold, Don Puckett, Dave Steffek, Bob Orr
Guides and Trips
Bev Edwards/Ouachita River Ranch; Oden, Arkansas
Capt. Bill Morehead; South Padre Island, Texas – www.fishspi.com/guides
Capt. Billy Trimble – www.trimblefishing.com
Cameron Cipponeri/Frying Pan Anglers; Basalt, Colorado – www.fryingpananglers.com
Capt. Steve Soulé – www.theshallowist.com
Frank Budd; South Padre Island, Texas
Harrison Nash/Nash Angling Adventures – http://nashanglingadventures.com
Jay & Skip Griffin/Ozark Angling Addiction; Missouri - www.OzarkAnglingAddiction.com
Jerry Loring: TFF Past President, Houston, Texas
Kevin Hutchinson/Hill Country Flyfishers; Austin, Texas
Mark Marmon/Metro Angler; Bellaire, Texas - http://www.metroanglers.com
Phil Stranahan; Rockport, Texas
Brent Hodges and ReelFly Fishing Adventures; Canyon Lake, Texas – http://reelfly.net
Posted, April 25, 2013
---
Updates on the conservation side
1) The trout in the classroom fish release will be on May 18th on the Guadalupe river - if any club members want to attend tell them to contact me for timing and location
This project was instigated locally by TFF. We should have representation there. Some of you memebers mark your calender and plan to attend. Remember we fish the Grad, do your part to keep it exciting to fish and healthy.
2) I have been chatting with the Galveston Bay Foundation about their new "redfish in the classroom" project. This is still very much in its infancy but it does involve giving schools an equipment set up and eggs and letting them hatch and raise redfish and release them in the bay. Right now they are struggling to get the system working and to keep the fish alive but when they get the kinks ironed out they should have a pretty neat set up and something that the club might want to consider being involved with in addition to trout in the classroom - thanks to Skip for bringing it to my attention.
that is all!
Cheers
Matt
Posted, May 01, 2013
---
---
Club Stuff
Pay your dues with PayPal
Membership dues for Texas FlyFishers cover the Club fiscal year - from 01 July through 30 June - so if you haven't already done so it is time to renew. Our dues have been unchanged for the last fifteen years and this year we have added a PayPal membership dues payment option for those of you that prefer the convenience of electronic payment. You do not need a PayPal account to use this feature and can pay with your credit card. Using PayPal means that the club website does not have access to any of your billing information. If you are not comfortable with electronic payment systems please use the conventional SnailMail option. See the Membership page for more details.
Club Meetings
Club Meetings are held at the Bayland Community Center in Bayland Park on the last Tuesday of the month. The Harris County District 3 Bayland Park Community Center is located at 6400 Bissonnet Street, Houston, Texas 77074. The phone number at the center is (713) 541-9951. To find the community center within the park download and print this Bayland Park map. For directions, go to this Interactive Map and Directions site.
posted 17 July 2008
Executive Committee Meeting at Luling Meat Market - The second Tuesday after the monthly meeting, starting at 6:30 (LMM is near the northeast corner of Loop 610 and Richmond Blvd about a block toward downtown facing Richmond on the north side.)
The membership is encouraged to attend.
This meeting sometimes floats to accommodate work schedules. Check with a committee member before attending.
posted 11 August 2011
You can buy Official Texas FlyFisher shirts at The Store
posted 20 August 2011
---
Other Stuff
An interactive map of places members of the Texas FlyFishers have fished.
If you have a place you have fished and would like to share it with the membership, please feel free to do so. Please note: This is a location and accessability map, not fishing reports. Reports go elsewhere in the forums.
If a location already exist, do not add another. ie Back to reports in the forum.
Instructions on how to enter your new locatin should be on the left hand column. If you have problems please contact Me the administrator and I will try to find out what is wrong. Please be as detailed as possible, I'm not a mind reader.
Texas River Access
"There are 3,700 named streams and 15 major rivers that meander through 191,000 miles of Texas landscape. These vastly important aquatic ecosystems play a major role in protecting water quality, preventing erosion, and providing nutrients and habitat for fish and wildlife. Along the way, water that eventually flows into seven major estuaries, supports over 212 reservoirs, countless riparian habitats, wetlands, and terrestrial areas. Each year Texas rivers and streams provide recreational opportunities to millions of Texans and visitors from all over the world.
The Texas River Guide provides river enthusiasts with an ever growing source for internet based information related to Texas Rivers. However, rivers are a natural resource that can be dangerous. When planning to recreate on rivers your individual skill level or the skill level of the least experienced person in your river party should dictate the level of river activities you should participate in."
The guide provides information on access to the rivers in Texas but it is not yet complete. Check it out at Texas River Guide .
April Attendance: 64
Tues Nite Tie Flyers
Note from Frank...
During my "update" next Tuesday, I plan to introduce the Butler Family to the group. This is the family that took the Beginners Fly Tying course this year.
To the best of my knowledge, this is the first time we have ever had an entire family take the course at the same time. We have had families take it before; but not at the same time.
I will also be presenting the two girls, Cate and Grace, with their TFF Junior Achievement Award plaques. They are recipients 3 and 4 since we started recognizing juniors about 15 years ago.
---
May Meeting
Our speaker for May 2013 is JIM DAILEY. Jim is a retired Texas Parks and Wildlife biologist who will speak to us about Texas Parks and Wildlife research programs, their history, their accomplishments and the future of fishing for all of us who fish in the salt.
Jim knows all about the TPW's various programs; the netting program, fish surveys, the red fish program, fish hatchery programs, the shrimp hatchery program, and programs and polices related to the removal of trot lines and nets because Jim was there, at the beginning -Jim's contributions to Texas coastal fishing are considerable.
Jim joined the TPW team when modern fisheries management was in its infancy and helped forge many of the strategies and procedures that are the backbone of today's management programs. Thanks to Jim and others like him, we enjoy some of the best fishing found anywhere on the gulf coast. Jim is also an avid fly fisherman and can give you/us some expert advice on the best bay systems to fish and the right flies to use. But Jim's interests are not just fly fishing in the salt, he also loves to fly fish for Brim and Freshwater Trout along with white and black bass.
So, if you are a seasoned angler or, are just beginning to develop an interest in fly fishing, join us at the May meeting of the Texas Fly Fishers for a vey educational and entertaining program. Not only will you hear a very fine speaker but you will also have an opportunity to socialize with some of the most friendly people interested in fly fishing. Everyone is welcome and we would be glad to have you.
---
About the Club
The social scene before the meeting begins.
---
A Houston based non-profit organization associated with the Federation of Fly Fishers and dedicated to the promotion of fly fishing education, conservation, and outdoors ethics.
The Texas FlyFishers of Houston was founded in 1976 by a group of avid fly fishermen. Their objectives then, as ours are now, were to share their knowledge of fly fishing with one another and others who wanted to learn, to help in conserving our natural resources, to enjoy the camaraderie of fly fishing, and to have a good time doing it.
We have an active club with a full range of activities. There is something for everyone, from beginner to expert, from the very young to those who remember when all fly rods were made of cane, and for all skill levels, from those who haven't yet held a fly rod to those who can cast more fly line than you can buy.
---
Attendance varies between 50 and 70 each month.