31
« on: October 13, 2014, 05:17:14 PM »
Well I guess I had this coming to me after winning the big prize last Thursday at the Orvis Westheimer store. First of all I have not won a thing at our TFF meetings in over four months...nada! The Thursday nite Happy Hours at Orvis have proved to be even more difficult to get in on all the goodies they give away. So last Thursday came as quite a surprise. To win the full flex 7'-6" Orvis "Touch" rod, MK II Battenkill Reel and Access #3 WF Fly line with 12lb backing was AWESOME! Thank You Orvis for supporting our wonderful club in the unselfish manner in which you do so year in and year out.
But you guys all know me...no moss grows on this "rolling stone" I had to hit the water as soon as I could Saturday afternoon after work. Conditions at the super secret White Oak ponds were pre-frontal, with a light wind from the southeast, afternoon temperatures approaching 90 degrees, and light overcast clouds. PERFECT I'd say. The rod fully assembled with reel, line, and backing, can't weigh 7 ounces. Unbelievably light. My first cast into the water using a bright yellow popper was met with a thrash of a mad "green trout" (for my LA fans). So over the next two hours I walked the ponds edge catching fish after fish. My casting was atrocious. I have never used a full flex rod in my life and I had to really learn how to pause long enough after my back cast before beginning my forecast. Yes, I tied some wind knots but found that I was using way too light of a leader for the size popper I was throwing. After experimenting a little I found the right set-up (at least for my casting ability). I cut the leader down to about 4' and tied a 16" section of 2x tippet on and the popper would turn over admirably. I took a few pictures of the first couple of fish I caught with the rod with my phone. See below
Nice evening and my first cast with the new outfit!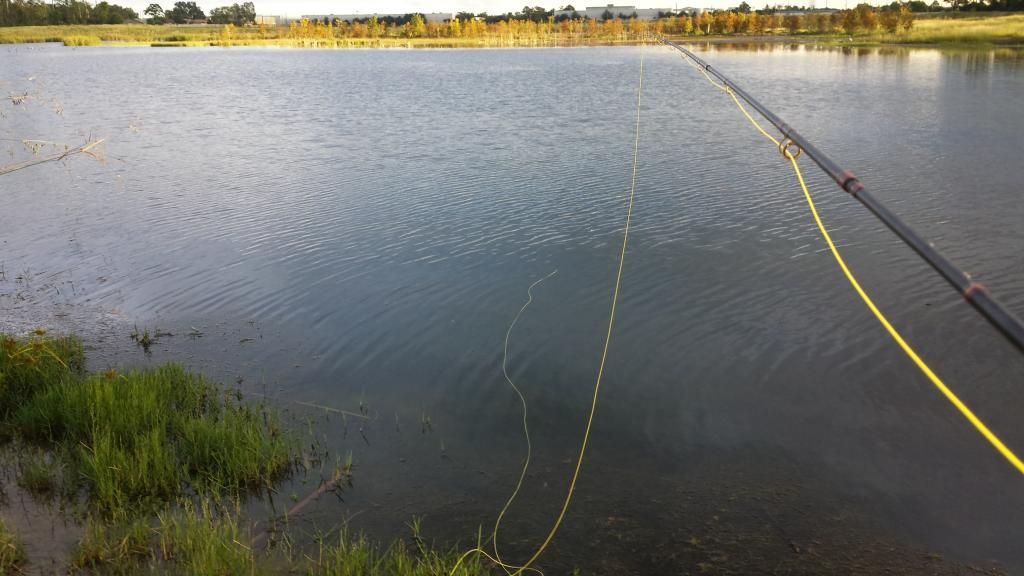 Here is what that cast found! SWEEETTT!!!!!!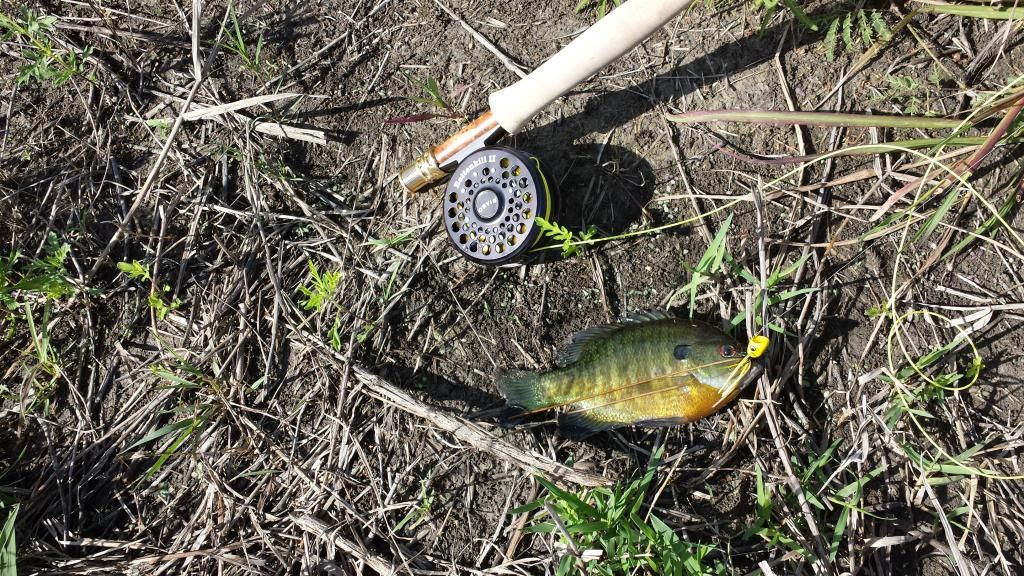 After catching a few and working with my leader I changed flies and caught this guy!
...and knowing I was going to return Sunday with my float cat if the weather would let me. I was thinking of all you guys down at Damon Lakes having a blast catching fish too.
Sunday morning, after a great breakfast of two eggs served over-easy, each placed on a hot sourdough english muffin with a slice of smoked ham and cheese, then topped off with some of my favorite "Slap Yo Mama" seasoning and a hot cup of coffee, I was ready for the day. I stopped by the shop and picked up the Outcast and I was off to the ponds. When I arrived the wind was down and the water was crystal clear. Because I was going out on the water there was NO WAY I was taking my phone out there to take pictures. Sorry about that but I am sure you understand. I will say the catching was off the wall. In three hours I caught over 60 fish. I even used Pucks method of dragging a fly 50' behind the boat while I was changing locations and each time I caught a good bream! I guess the bass need the popping motion. Only one good sized fish to really brag about and it was the largest most beautiful blue gill bream I have caught since my last trip to the Blanco River up by Wimberley Texas. It was huge easily 12-13" and well over 1.0lb. its vertical stripes were approximately 3/4" wide and the colortaion was off the charts too. WOW. Now I wished I had my camera.
So if any of you want to join me as I learn how to use this rod more effectively, give me a call. Oh yeah as I was leaving the ponds I ran across three women using fly rods...yes I told them about our club. ..and yes Marcos hot spotted our "honey hole". Hopefully they will join us at our next meeting. Till then ... tight lines!
<*)))>{GOLDEN}<(((*>