241
« on: October 22, 2012, 10:51:09 AM »
Well for those of you who didn't go we had a blast down in POC this past weekend. I know the Rodeo was cancelled...but not for those who really love fly fishing! We had at last count 11 fishers including Dave and Pete who always join us down here in POC all the way from Albuquerque, New Mexico! We had M. Quigley, G. Sutherland, A. Muire, J. Richards, D. Hasselmann, B. Sandler, A. Blacque, S. Fossum, Dave and Pete, and our roving Concert Reporter S. Breedlove, (more on that later).
Fishing was good and the weather could have not been better except for the wind. The food and drinks were awesome as we had an ample supply from Alex's wedding leftovers. Including several wonderful single malts. Did I say we had a blast!
Friday night we all gathered at the Red Ops Compound. After the gear was all loaded onto the boat fleet we went to Cathy's for dinner and it was delicious, the guys all made some awesome salads (all you can eat) and there were fresh shrimps everywhere. I had the grilled pork chops and Adam ate one of those big "A" cheese burgers. We then returned to the compound from some after dinner drinks and fun. ...and it was fun. During the evening we were receiving texts and photos of the ZZ Top concert by our club's roving concert reporter Scott Breedlove. He was sitting in the seventh row center and having a blast. Although I am sure he is a little hard of hearing now! See photos below.
The next morning (ahh what I remember of it) we all gathered at the Speedy Stop getting our lunches, drinks and their famous breakfast tacos. I missed Scott Fossom at the store but the guys told me he was present and accounted for. I missed a lot at the store that morning... The trip to the ramp and we started dropping the boats. There is always somebody at the ramp to cause a ruckus and this time was no different. One boat parked at the base of the ramp...nobody nearby and the boat was just aimlessly drifting about. I found the owner and helped him move it to a slip out of the way of the rest of us. We took off and headed to the J-Hook Flats where we found beautiful water and lots of fish. The sun was rising to help with our vision and the fun was ON!
Alex and I got our wade on at the entrance into Fish Pond. WOW was it lit up! We instantly found the place was full of bait meaning the predators were not far behind. He caught a big red and I a big trout and red + a small lady fish. The other guys either waded off or George poled his boat down the outside edge of the opening to Fish Pond. Which it look like George was going to need a little instruction in poling as he was out there doing a few 360's before getting his new boat pointed in the right direction.
With the wind bowing a stiff 15 to 20 all day everybody headed downwind towards the Coast Guard station ruins and we were steadily finding fish - some ate some didn't. The normal POC herd must have taken the weekend off as it seemed we had the place to ourselves. We later went out to Pringle to mess with a couple of hundred drum. George couldn't believe how many there were. And this week they were joined by quite a few redfish. But like last week these fish had a serious case of lock jaw!
Saturday night we again met up a Cathy's and had dinner and gave out the prestigious POC One Fly Award to the winner George Sutherland we also shared some excellent champagne (remember Alex's wedding) and toasted both his winning and his new boat which is now named …Piquen Bonita (meaning little pretty – hey wasn't that a line from The Wizard of Oz!). I hope I spelled it right…sorry George if I didn't! Anyways we again ate like we were famished. I will say this everybody was in bed by 11:00 PM no late night partying like Friday.
Here are some of my photos and some sent to me by George.
Party On Adam!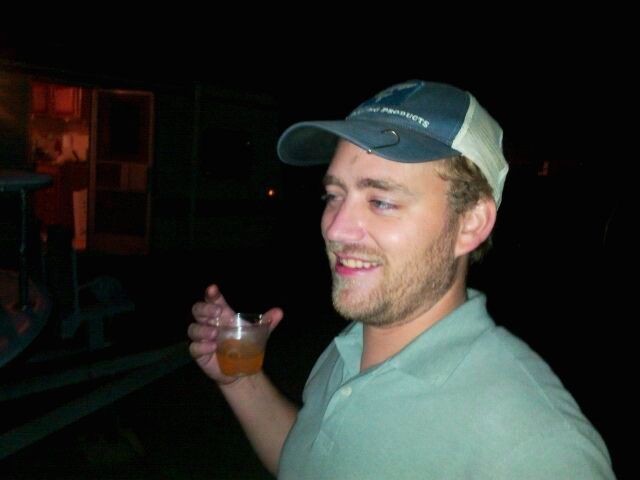 View of Don Hanselmann's boat. Big Shallow Sport.
Here is George's New skiff...pretty isn't she!
This is what George could see from his boat's console.
Good looking water ahead! Alex is just off to my right.
Ooops fish on!
Nice Fish
Here is a good one caught from the bow of Georges skiff!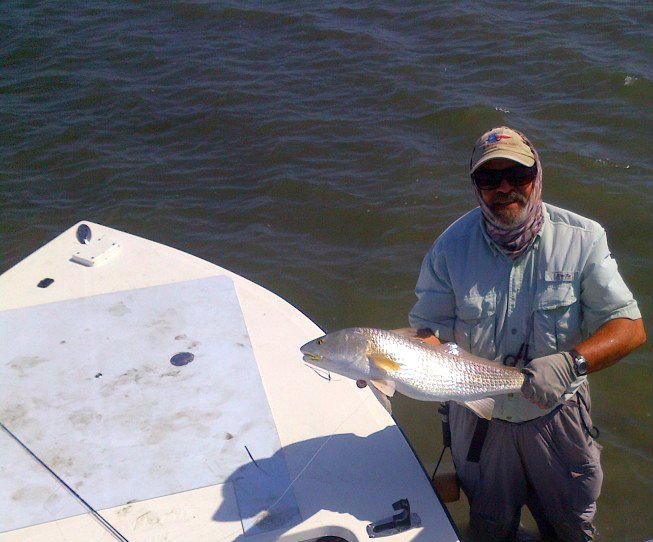 Here's what Jim used.
Not the best way to end a great weekend!
We fished Sunday and had some good results too. some of the photos above are from Sunday too. I didn't get any pictures of a nice 20" trout I caught but Alex was there for the mayhem and I also caught a real good sheepshead on the fly. Bigger than the one I caught last week shown in a thread above this one. Well I wished we could have had more of you down for the fun but I understand. I know I have left a lot out so you guys when you post up your reports fill in the blanks.
GOLDEN