61
« on: January 22, 2014, 04:42:13 PM »
Well, it seems that on Saturday, January 18th, there were two kinds of fly anglers. Those who participated in the Guadalupe one-fly event, and then, well, the rest of you. The former group was the fortunate few who had a great day of fishing, great food, meeting new friends, and an outstanding time on the river. And what a great event it was. A combined event with the Texas FlyFishers and the Alamo Fly Fishers from San Antonio, with a total of about twenty anglers equally split between the two clubs. From the TFF'ers we had John P, Scott B, Mike Q, Denis A, Michael M, Barry S, Jim R, Travis R, and George S...did I miss anyone? From the Alamo Fly Fishers we hadWalter R, David G, Steve F, Paul C, David R, Santiago S, Kurt M, Bret R, and probably some others whose signatures on waiver forms I could not decipher. Big group, great participation!
Action started on Friday, where a couple of TFF anglers decided to "pre-fish" the river in hopes of gaining a competitive advantage. Scott B. and Denis A. hit the river early Friday morning, but reported no catch. Skunked. Yeah, right, that is what they "said." But who knows, maybe it was true, and the only competitive advantage they gained was knowledge of what flies were not working, and where the trout were not. As people started arriving Friday afternoon the coolers opened and several TFF'ers made the traditional trip to Lucky's Sports Bar on Canyon Lake, home of the chicken fried ribeye steak. That's right, a ribeye. Wow. Then back to the cabin at Rio Raft for more laughs, stories, and elbow-deep plunges into the cooler and a pull from a brown bottle.
Saturday dawned clear, bright, and cold. Thermometer had plunged to 30 degrees – brrr. Fleece under your waders and hot coffee being the order of the morning. The guys from the Alamo Fly Fishers, led by club president Walter R., began arriving about 7:30 as planned for the start. Really nice guys, and lots of introductions were made. There were several kayakers in that bunch. A quick orientation on the official "rules," er, guidelines (there seemed to be some disagreement regarding whether a sabiki rig could be considered a "one-fly"), and all were off in different directions. Many wading, several kayaking, and John P. and George S. declared a pro-am division and fished with guide and friend Capt. Brent Hodges.
Here's the morning gathering; you can just feel the focused intensity in this group!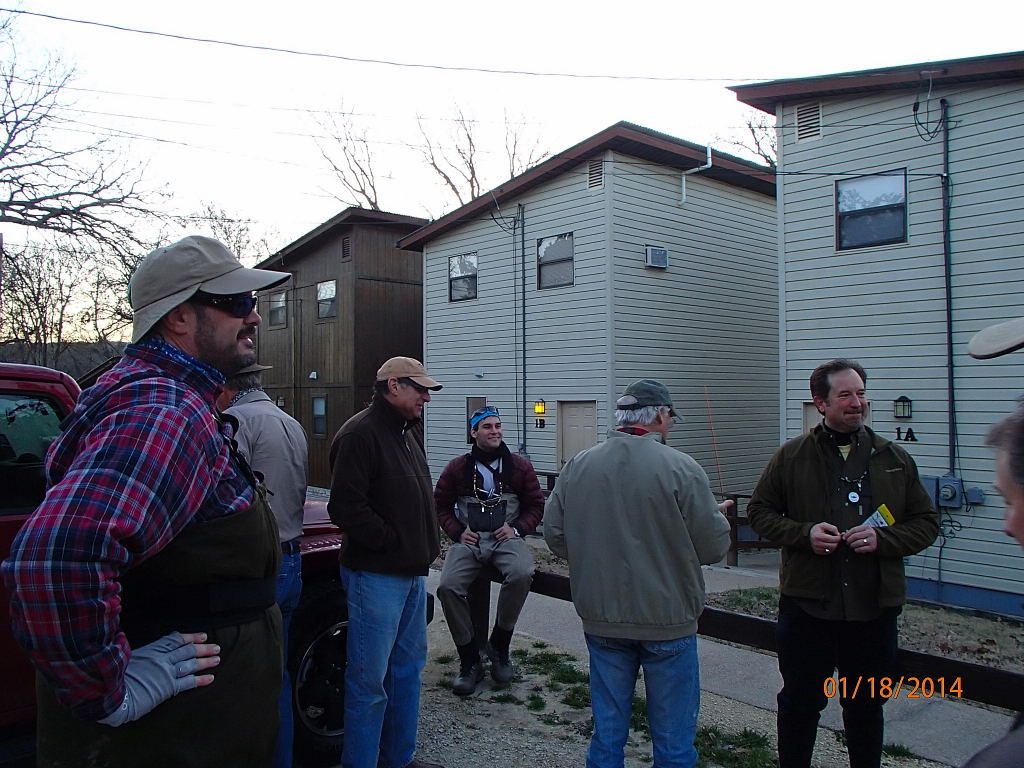 Then off to the fishing! The river was running rather low and slow, and not quite as clear as we'd seen it, but conditions were good for fishing and it was a gorgeous day. Many quality trout caught over the course of the day. Great thing was that they were big – 16" to 18" pretty common, with perhaps a few above that. Some as small as four inches (mine), and many in the 12" to 14" range. All the trout were plump and healthy. Females were really thick, and despite all care taken at the release many were releasing eggs. This is consistent with the egg pattern being a very productive fly. The luck of individual anglers varied considerably. Some caught many, some just a few, and some… well, turned in a zero score. Fishing was best with a nymph rig, with eggs and midges receiving the most hits. Our most productive flies were a rainbow warrior or an orange egg.
Here's John with a nice bow!
Hey look! George caught one too!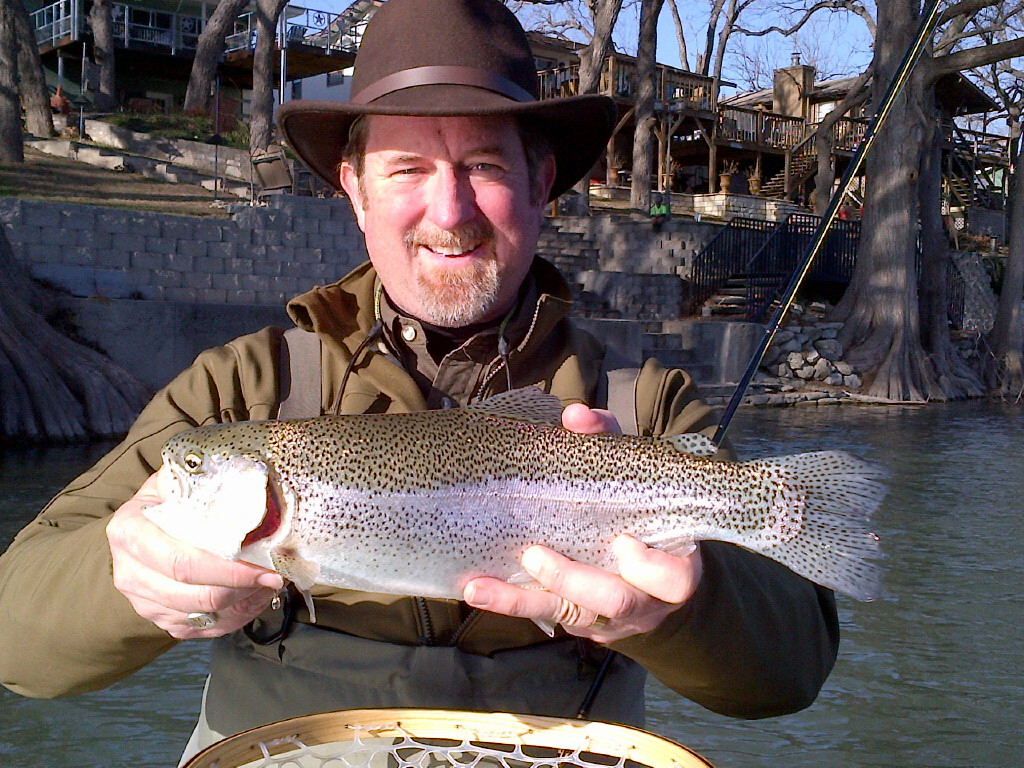 So who won the event? Michael Midyett turned in the top score for the event, with five trout totaling 77 inches of fish. That's pretty impressive – a 15.4" average, and a testament to the quality of the fish in the Guadalupe. Michael is quite a fisherman. A recent transplant to Houston from Colorado, it is pretty clear that he was born with a five weight in his hand. As anglers returned in the late afternoon, there was a fully stocked cooler handy, and lots of stories from the day's adventures. Prizes awarded, and everybody present received a small token. I'm still envious of Mike Q., who walked away with a very nice hat courtesy of the Alamo Fly Fishers. Then it was off to a great team dinner with both clubs at Gennaro's Trattoria, in nearby Startzville. A really good Italian restaurant; they graciously reserved a table of fifteen on a very busy Saturday night. Complimentary champagne was served, toasting new friends, and more stories. High marks for Genarro's; you must give them a try when you are in the area.
Big group and a big dinner: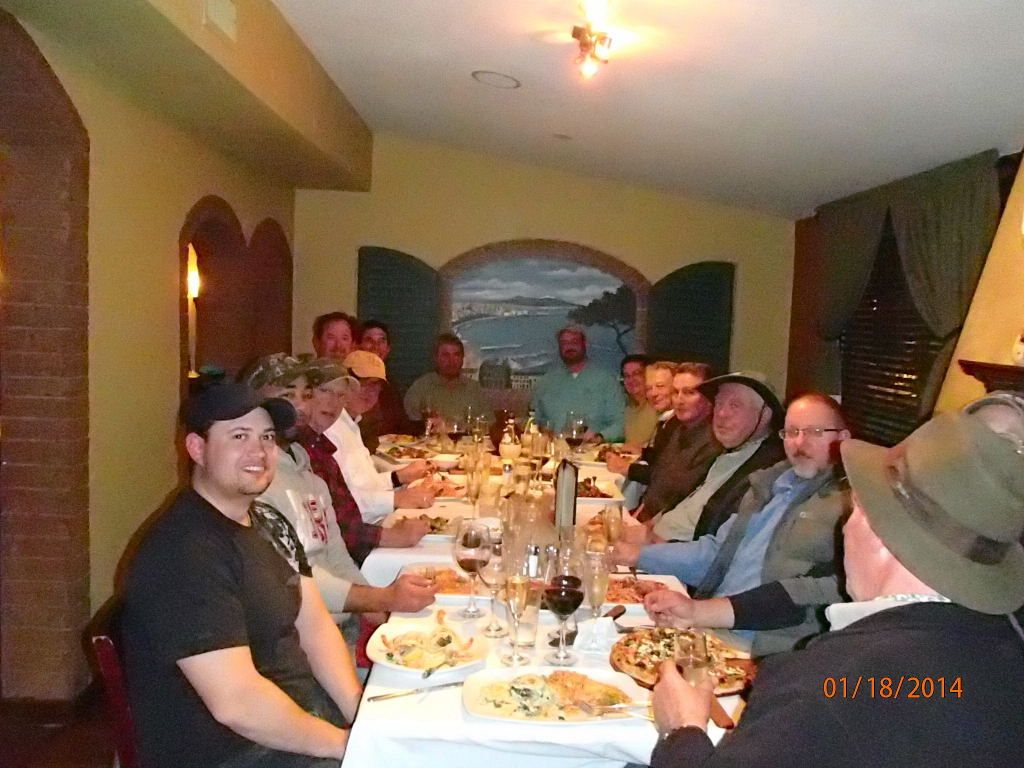 Sunday morning dawned cool with a light fog rising from the river. Great thing about staying at Rio Raft is you walk down a gentle slope to excellent fishing right out your back door.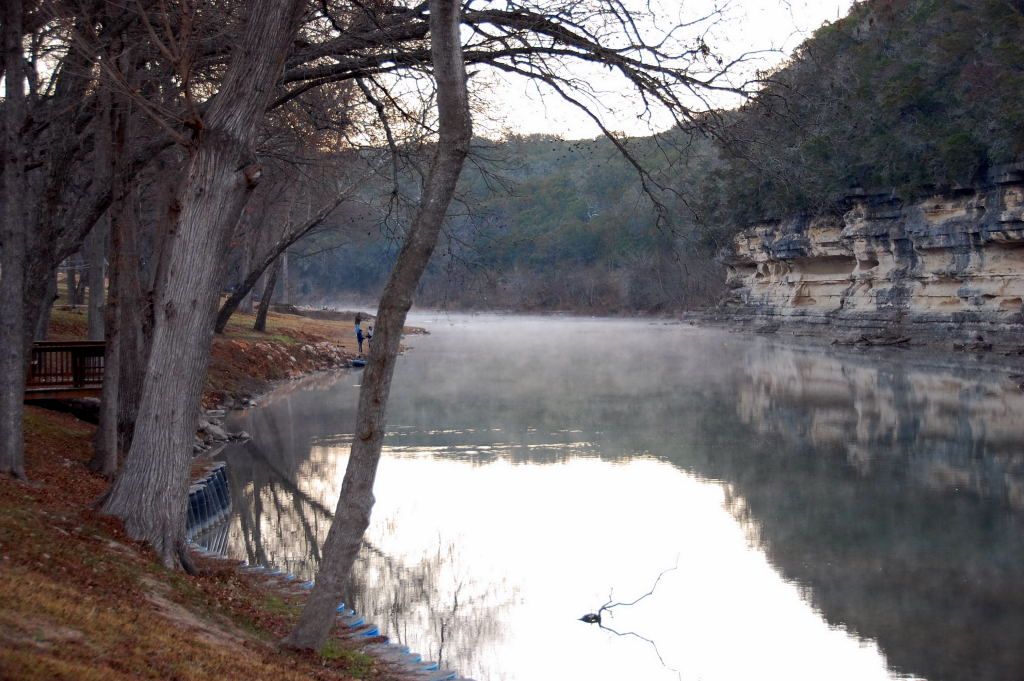 Here's the mystery angler who caught the fish featured on the home page – John P. landed this beauty on Sunday morning right outside the back door of the cabin. Nice fish John!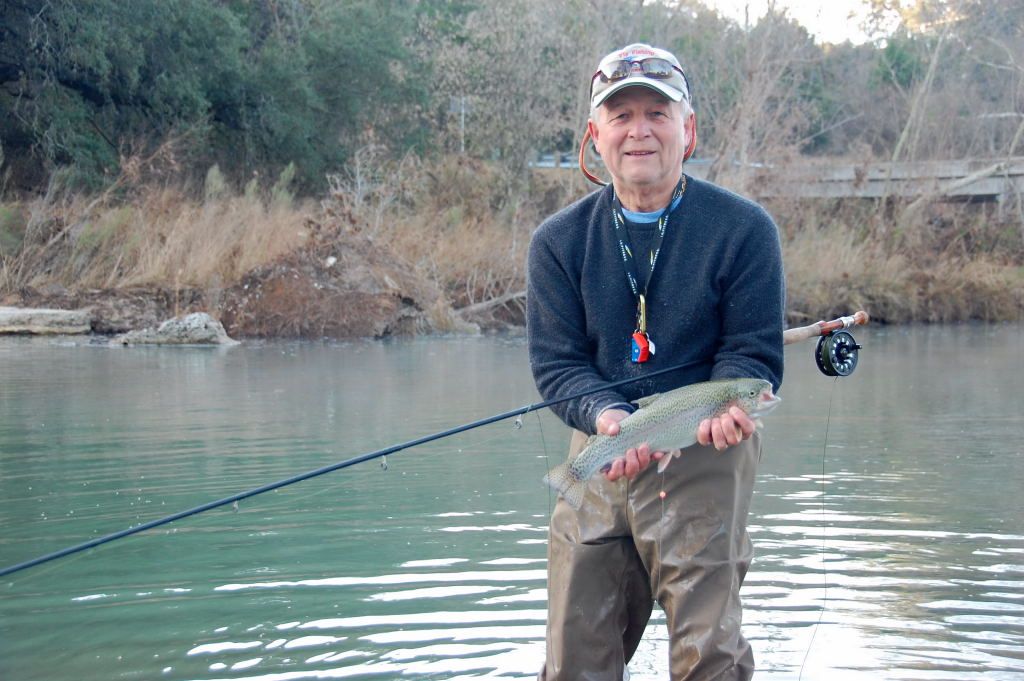 And that fish made a bit of a splash before it came to hand...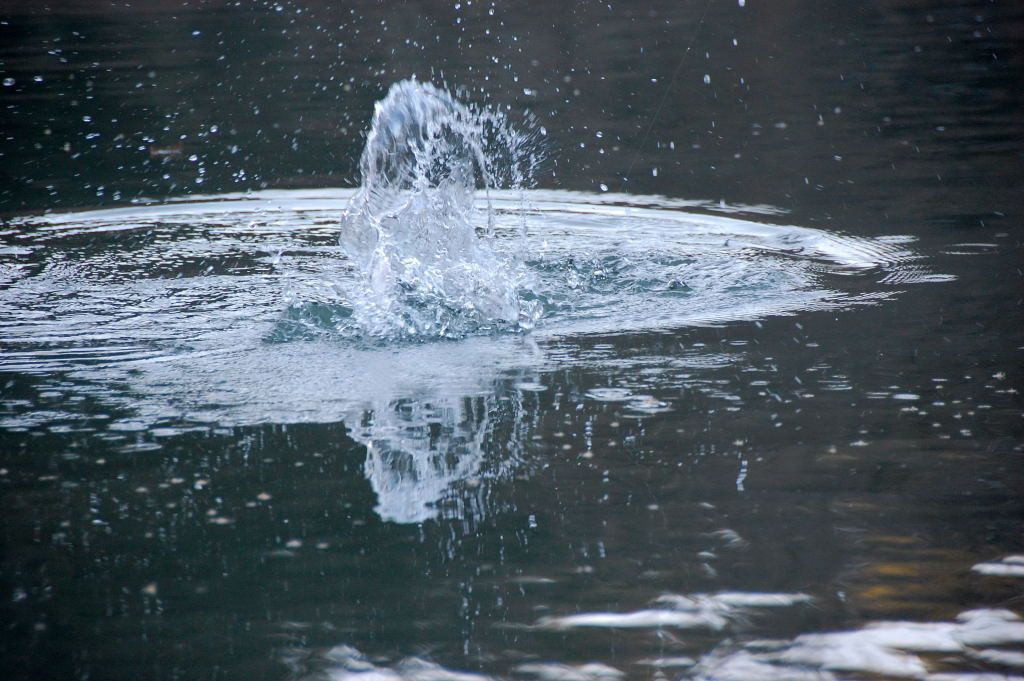 Here's Michael M. showing off his Nymphing form. I'm waiting for him to teach a Nymphing class for the Texas FlyFishers! You can see his loop forming in the photo if you look closely...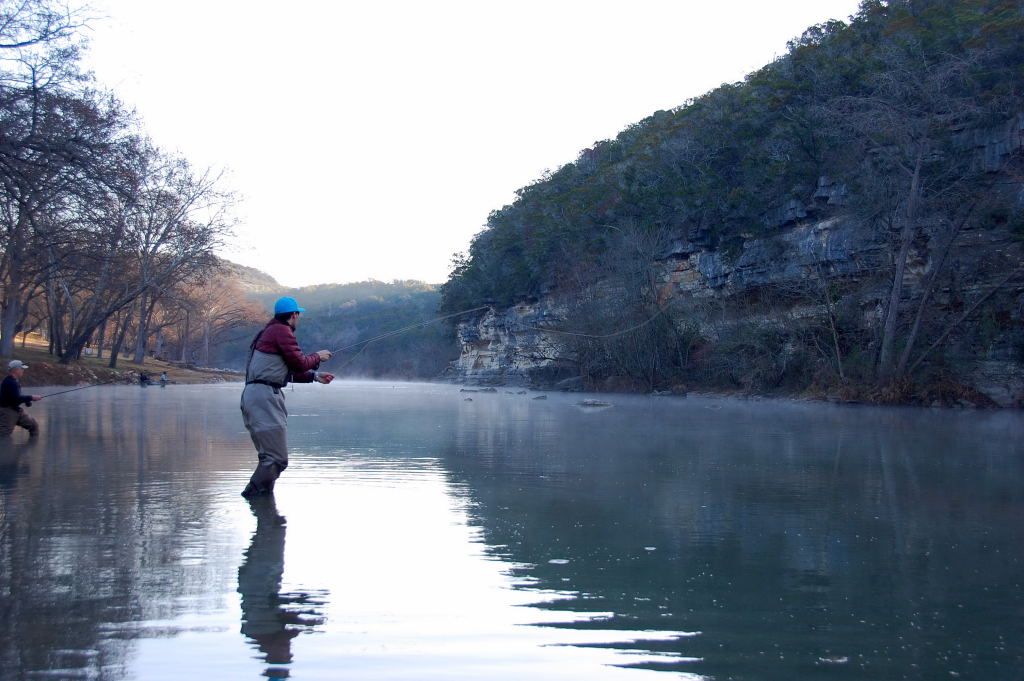 We couldn't have asked for better event. A great group of guys from the Texas FlyFishers and the Alamo Fly Fishers coming together for fishing, food, and fun. Thanks to Walter R., president of the Alamo Fly Fishers, for bringing a great group of anglers to join the event and make some new friends. We'll need to collaborate on future events, and I think we're all looking forward to next year's one-fly event on the Guadalupe.
Thanks to all who made the trip such an outstanding success! And please – post up your stories and photos boys!
Looking forward to the next one!
Cheers,
George